For Customers outside of USA
Two Antique Genuine Natural Celanese 1/3 Carat Faceted Diamond White Zircon Round Semi-Precious Gemstones.
CLASSIFICATION: Faceted White Zircon.
ORIGIN: Ceylon. 19th Century.
SIZE: Approximate Diameter: 4mm.
WEIGHT: Approximately 0.66 Carats (the pair).
NOTES: Upon request we can set your gemstone as a ring, pendant, or earrings .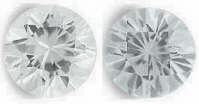 DETAIL: Historically this colorless form of natural Zircon, known as "Matara diamond", has been very costly as Zircon comes very close to diamonds in fire and brilliancy due to its high refractive index. Two gorgeous, sparkling, diamond white zircon faceted round gemstones from Ceylon. These gemstones have been hand faceted in brilliant cut rounds, the same finish generally given to round diamonds. These are crystal clear, flawless semi-precious gemstones with virtually all the fire and brilliance of diamonds. They are cut and faceted just like diamonds, and they look just like diamonds. They truly are very beautiful, natural gemstones, and will easily fool most anyone, even many jewelers, into believing that they are diamonds. They are exceeding difficult to distinguish from the highest quality diamonds. To the trained eye the photo enlargements will literally shout that the gemstones have been hand-faceted. The coarseness of the 19th century faceting is considered appealing to most gemstone collectors, and is not considered a detriment. Unlike today's computer controlled machinery, the cut and finish of gemstones such as these is the legacy of an artisan who lived two centuries ago. Such antique hand-faceted gemstones possess much greater character and appeal than today's mass-produced machine-faceted gemstones.
HISTORY: The word zircon originated in the 18th century from the Persian word "Zargon", which means "gold colored", due to the yellow color of the zircon gemstones found there. In history the first references are in Hindu mythology, many thousands of years old. In Europe in the Middle Ages zircon was also worn by travelers as a protective amulet, and was believed to ward off lightning strokes. Historically this colorless form of Zircon, known as "Matara diamond", has been the most popular and the most costly. This colorless form of zircon looks more like diamond than any other natural stone due the high refractive index of zircon. These physical properties cause zircon to come very close to diamonds in fire and brilliancy. Blue zircon was immensely popular in the 1880's and was used extensively in Victorian jewelry. Blue zircon and colorless zircon remain the most sought after and costly forms of zircon.
SHIPPING OPTIONS: All purchases are backed by an unlimited guarantee of satisfaction and authenticity. If for any reason you are not entirely satisfied with your purchase, you may return it for a complete and immediate refund of your entire purchase price. Most of these antique gemstones were originally part of two collections, one originating in India principally composed of gemstones originally mined in India, Burma, Ceylon, and Siam, and then hand faceted in India. The addition of a second accumulation of antique gemstones originally mined in the Urals in the mid to late 19th century (including alexandrite) completed the collection. These gemstones as well were hand finished. The Urals have been one of the world's major sources of precious and semi-precious gemstones for many centuries. As well, additional specimens are occasionally acquired from other institutions and dealers in Eastern Europe and Asia. These antique gemstones are now in the United States and are available for immediate delivery.
We ship inventory from the USA order fulfillment center near Seattle, Washington. Your purchase will ordinarily be shipping within 48 hours of payment. A certificate of authenticity is available upon request. We prefer your personal check or money order over any other form of payment - and we will ship immediately upon receipt of your check (no "holds"). We will accept PayPal payments. Please see our "ADDITIONAL TERMS OF SALE".