For Customers outside of USA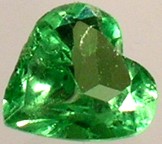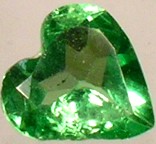 Excellent Quality Genuine Natural Richly Hued Forest Green Heart Cut Faceted Tsavorite Precious Gemstone.
CLASSIFICATION: Heart Cut Faceted Tsavorite Garnet.
ORIGIN: Kenya, late 1970's.
SIZE: Diameter: 3 1/2mm. Depth: 1 1/4mm. All measurements approximate.
WEIGHT: 0.12 carats.
NOTES: Upon request we can set your gemstone as a ring, earring, or pendant.

DETAIL: Here is a gorgeously colored, richly hued, saturated, almost neon forest green tsavorite precious gemstone which has been cut into a faceted heart. This is a nice quality specimen reasonably close to "eye clean", or "near eye clean" to the casual admirer. Closer scrutiny (even with the naked eye) will reveal some small blemishes if inspected intently. Tsavorite, a form of grossular garnet, is one of the worlds rarest and most sought after semi-precious gemstones. It was first discovered in Tanzania in 1967 in the shadow of Mt. Kilimanjaro, though it was not until 1971 that the first specimens were extracted from nearby Kenya. The name is derived from the adjoining Tsavo National Park famous for its mighty "red" elephants who wallow in and spray themselves with red iron-rich mud during the rainy seasons. The park is also well known for its man-eating lions.

This gemstone possesses superb luster and sparkle, and to the eye of the casual admirer is transparent and without immediately discernible blemish, but it is not anywhere near flawless. True, the blemishes it possesses are not visible to the naked eye unless examined closely, and the gemstone can be characterized at least to casual examination, to use trade jargon, as "near eye clean". To the eye of the casual admirer it is indeed without blemish. However magnified 500%, as it is here, or even to intent examination with the unaided eye, you can pick out a number of strands or fine seams of colorless crystalline material within the gemstone. Nonetheless it is an absolutely exquisite gemstone of remarkable color and intensity of hue, and a rare and collectible specimen. Naturally such blemishes, especially in tsavorite, are not at all uncommon. An absolutely flawless gemstone is very rare in nature (and usually turns out to be synthetic). If you would like to learn more about tsavorite, please click here.


SHIPPING OPTIONS: All purchases are backed by an unlimited guarantee of satisfaction and authenticity. If for any reason you are not entirely satisfied with your purchase, you may return it for a complete and immediate refund of your entire purchase price. Most of these antique gemstones were originally part of two collections, one originating in India principally composed of gemstones originally mined in India, Burma, Ceylon, and Siam, and then hand faceted in India. The addition of a second accumulation of antique gemstones originally mined in the Urals in the mid to late 19th century (including alexandrite) completed the collection. These gemstones as well were hand finished. The Urals have been one of the world's major sources of precious and semi-precious gemstones for many centuries. As well, additional specimens are occasionally acquired from other institutions and dealers in Eastern Europe and Asia. These antique gemstones are now in the United States and are available for immediate delivery.
We ship inventory from the USA order fulfillment center near Seattle, Washington. Your purchase will ordinarily be shipping within 48 hours of payment. A certificate of authenticity is available upon request. We prefer your personal check or money order over any other form of payment - and we will ship immediately upon receipt of your check (no "holds"). We will accept PayPal payments. Please see our "ADDITIONAL TERMS OF SALE".