For Customers outside of USA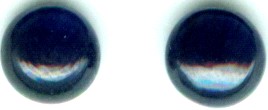 Antique Genuine Natural Russian One-Half Carat Bright Blue Sapphire Round.
CLASSIFICATION: Cabochon Blue Sapphire Rounds.
ORIGIN: The Ural Mountains, Russia. 19th Century.
SIZE: Diameter: 5mm. Depth: 2 1/3mm. All measurements approximate.
WEIGHT: 0.96 carats (the pair).
NOTES: Upon request we can set your gemstones as a ring, pendant, or as earrings .
DETAIL: Two gorgeous, richly colored natural bright blue sapphire precious gemstones from the Ural Mountains of Russia. The gemstones were hand shaped and polished into these very beautiful round cabochons. The result is a pair of exquisite and incredibly richly colored precious gemstones with lots of depth and gorgeous tone. There is a little color zoning, which means that if you look very carefully and closely you will see areas of different shades of blue within the gemstones. But this is quite common with sapphires, and in no way detracts from their beauty. Aside from being commonplace, the color zoning is not detectable at all except upon very close scrutiny (or photo enlargements such as these). Good quality blue sapphires are in high demand, and can be quite costly. The Southern Ural Mountains of Russia have been producing sapphires for centuries. Under magnification the gemstones shows the unmistakable characteristics of having been hand crafted. The coarseness of the 19th century finish is considered appealing to most gemstone collectors, and is not considered a detriment, or detract from the value of a gemstone. In fact most serious collectors consider such gemstones more desirable, possessed of greater character and uniqueness when compared to today's cookie-cutter mass-produced machine-tumbled gemstones. Unlike today's computer controlled machine produced gemstones, the cut and finish of a gemstone such as this is the legacy of an artisan who lived two centuries ago.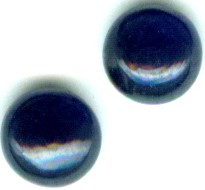 This gemstone has great luster and sparkle, and to the eye is more or less transparent, but it is not entirely flawless. True, the blemishes it possesses are near invisible to the naked eye. However magnified 400%-500%, as it is here, you can see slight imperfections (included material) within the gemstone and occasional irregularities in the finish. But these characteristics are not only expected of hand-finished gemstones, you must also consider that two centuries ago the mining techniques even possible then, let alone in practice, did not allow the ultra deep mining operations which are so prevalent today. Two centuries ago mankind was more or less limited to surface deposits or near surface deposits of gemstones. Higher quality gemstones which today are routinely mined from beneath hundreds of meters, even kilometers beneath the earth's surface, were simply inaccessible then. So antique gemstone must be appreciated as antiques first, gemstones second. The relatively superlative quality of gemstones routinely mined from deep beneath the earth's surface today were simply not accessible two centuries ago, or at least, only rarely so. However for most, the unique nature and character of antique gemstones such as this more than makes up for included imperfections which by and large, are only visible under magnification.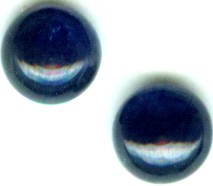 HISTORY: Sapphires have been since ancient times one of the most highly valued of all gemstones, and references to the gemstone date back to about 800 B.C. The name "sapphire" comes from the Latin "sapphirus" and the Greek "sappheiros", which translates to "blue" in both languages. The name sapphire is also a derivative of the ancient Hebrew and Persian word for "blue" as well. To the ancient Romans however, the word "sapphirus" actually referred to lapis lazuli, another blue gemstone. What the Romans called blue sapphire translates to "hyacinth"; the green sapphire was "emerald", and the purple sapphire was "amethyst". In the ancient Mediterranean world, priests and sorcerers honored the sapphire above all other gems. They believed that the sapphire enabled them to interpret oracles and foretell the future.
The ancient Persians believed that the earth rested on an enormous sapphire, and the sky reflected its beautiful color. They referred to the sapphire as "the gem of the heavens". As the centuries passed, European royalty came to favor sapphire believing the stone would provide protection from harm. Throughout Medieval Europe, the sapphire was thought to give the wearer strengthened vision, including visions of the future. Sapphire was regarded as an antidote to black magic and effects of evil spirits. It was held to be a symbol of truth and constancy. Sapphires are a member of the corundum family, and close relative to the ruby. In fact, a ruby is simply a red sapphire. The sapphire is considered one of the most valuable of precious stones. The principal sources of sapphire in modern history are Russia, Siam, Ceylon, Burma, Africa, and Australia.
SHIPPING OPTIONS: All purchases are backed by an unlimited guarantee of satisfaction and authenticity. If for any reason you are not entirely satisfied with your purchase, you may return it for a complete and immediate refund of your entire purchase price. Most of these antique gemstones were originally part of two collections, one originating in India principally composed of gemstones originally mined in India, Burma, Ceylon, and Siam, and then hand faceted in India. The addition of a second accumulation of antique gemstones originally mined in the Urals in the mid to late 19th century (including alexandrite) completed the collection. These gemstones as well were hand finished. The Urals have been one of the world's major sources of precious and semi-precious gemstones for many centuries. As well, additional specimens are occasionally acquired from other institutions and dealers in Eastern Europe and Asia. These antique gemstones are now in the United States and are available for immediate delivery.
We ship inventory from the USA order fulfillment center near Seattle, Washington. Your purchase will ordinarily be shipping within 48 hours of payment. A certificate of authenticity is available upon request. We prefer your personal check or money order over any other form of payment - and we will ship immediately upon receipt of your check (no "holds"). We will accept PayPal payments. Please see our "ADDITIONAL TERMS OF SALE".