For Customers outside of USA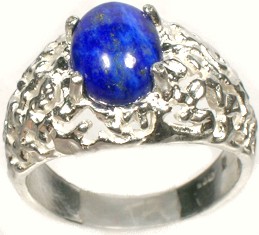 Antique Genuine Natural Russian Crafted/Afghani Mined Dark Blue Lapis Lazuli Semi-Precious Oval Gemstone. Contemporary High Quality Sterling Silver Ring (Size 10 - Resizing Available).
CLASSIFICATION: Cabochon Lapis Lazuli Oval.
ORIGIN: 19th Century Badakhshan, northeastern Afghanistan. Ring setting is of contemporary origin.
SIZE: Length: 10mm. Width: 8mm. Depth: 4mm. All measurements approximate.
WEIGHT: 3.02 carats.
NOTES: Upon request we can set your gemstone as a ring, pendant, or into earrings (click here for more information).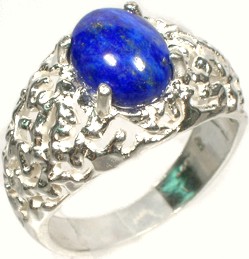 DETAIL: Here's a gorgeous, richly colored natural dark blue lapis lazuli semi-precious gemstone from the 7,000 year old mines at Badakhshan in Afghanistan, source of lapis lazuli for the ancient Egyptians, Sumerians, Phoenicians, and the rest of the ancient world, who referred to lapis lazuli as the gemstone of the heavens, as the golden-flecks of sparkling iron pyrite in the deep blue body was often associated by the ancients with the stars in the heavens. Some of the most splendid ancient jewelry ever unearthed by archaeologists was found in Queen Pu-abi's tomb at Ur in Sumeria dating from the 3rd millennium B.C., and in the ancient Egyptian Pharaoh Tutankhamen's tomb. Lapis Lazuli was one of the most prominent gemstones found within these tombs, including on the famous mask of Tutankhamen.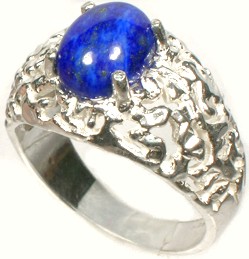 The gemstone was hand shaped and polished into this very beautiful oval cabochon by a 19th century Russian artisan, part of an heritage renown for the production of the elaborate gemstones and jewelry of the Czars of Medieval, Renaissance, and Victorian Russia. The result is an exquisite and incredibly richly colored precious gemstone with lots of depth and gorgeous tone. It is considerably lighter than inky "midnight blue" African or Australian sapphires, but well past the medium blue of sapphires from Ceylon and Burma. It is truly a very rich and regal blue, bringing to mind all of the rich pageantry of the royal houses of Europe. Gem quality lapis lazuli is in high demand, and can be quite costly, and this is exceptionally good quality lapis lazuli, evenly and richly colored a deep, royal blue.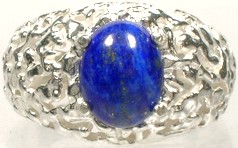 The setting is of contemporary origin. It is a high quality setting manufactured by one of the USA's leading semi-custom mount producers. It is constructed of solid sterling silver. We do have the ability to have the ring sent out for resizing if requested. Additionally, if preferred, the mounting is also available in 14kt solid gold. Under magnification the gemstone shows the unmistakable characteristics of having been hand crafted. The coarseness of the 19th century finish is considered appealing to most gemstone collectors, and is not considered a detriment, or detract from the value of a gemstone.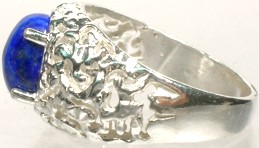 These characteristics are not only expected of hand-finished gemstones, most serious collectors consider such gemstones more desirable, possessed of greater character and uniqueness when compared to today's cookie-cutter mass-produced machine-tumbled gemstones. Unlike today's computer controlled machine produced gemstones, the cut and finish of a gemstone such as this is the legacy of an artisan who lived two centuries ago. For most, the unique nature and character of antique gemstones such as this more than makes up for included imperfections which by and large, are only visible under magnification.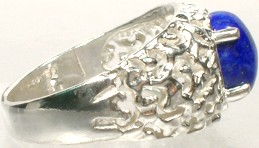 HISTORY: Lapis Lazuli gets its name from the Arabic word "allazward", meaning "sky-blue". Along with turquoise and carnelian, the three are undoubtedly amongst the most ancient of gemstones. For more than 7,000 years lapis lazuli has been mined as a gemstone in Afghanistan, near ancient Mesopotamia, and traded throughout the ancient Mediterranean world. The ancient source of lapis lazuli was these very same mines at Badakhshan, in the Persian highlands above the fertile Mesopotamian lowlands. The Persian highlands and plateau provided many of the raw materials lacking in the ancient civilizations abounding in the Mesopotamian lowlands (the "fertile crescent").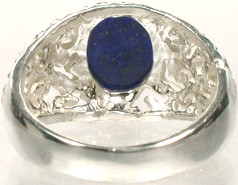 The most ancient jewelry typically used one or more of these three gemstones (carnelian, turquoise), and lapis lazuli was certainly very popular. How popular? Well, the most ancient examples of jewelry are probably those found in Queen Pu-abi's tomb at Ur in Sumeria dating from the 3rd millennium B.C. In the crypt the queen was covered with a robe of gold, silver, lapis lazuli, carnelian, agate, and chalcedony beads. The lower edge of the robe was decorated with a fringed border of small gold, carnelian, and lapis lazuli cylinders. Near her right arm were three long gold pins with lapis lazuli heads, and three amulets in the shape of fish. Two of the fish amulets were made of gold and the third, you guessed it, lapis lazuli. On the queen's head were three diadems (above, right) each featuring lapis lazuli.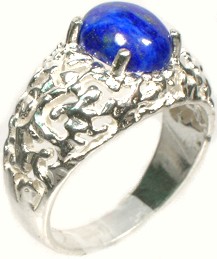 At roughly the same time, lapis lazuli was also certainly popular in 3,100 B.C. with the Egyptians who used it in medicines, pigments (ultramarine), cosmetics (eye-shadow) and, of course, jewelry. The ancient Egyptians believed lapis lazuli to be sacred and used it in the tombs and coffins of pharaohs. The famous mask (left) covering the head of Tutankhamen's mummy is inlaid primarily in lapis lazuli, with accents of turquoise and carnelian. The tombs of Tutankhamen and Queen Pu-abi, two of the richest tombs in all history, lapis lazuli was featured prominently in both.
Besides jewelry, lapis lazuli has also been used since ancient times for mosaics and other inlaid work, carved amulets, vases, and other objects. Ordinarily it was cut cabochon (smooth concave) as a gem. Since ancient times it was also ground and used as a pigment. When lapis was first introduced to Europe, it was called "ultramarinum", which means "beyond the sea". Ground lapis was the secret of the blue in ultramarine, the pigment which painters used to paint the sea and the sky until the nineteenth century. Lapis was also popular in inlays. In what was once one of the cultural capitals of Europe, the columns of St Isaac's Cathedral are lined with lapis, and the Pushkin Palace has lapis lazuli paneling! Most lapis lazuli contains iron pyrite in the form of golden flecks sprinkled throughout the gemstone, the hallmark characteristic of lapis lazuli, often compared by the ancient with stars in the sky.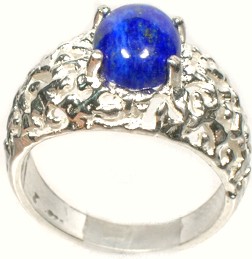 SHIPPING OPTIONS: All purchases are backed by an unlimited guarantee of satisfaction and authenticity. If for any reason you are not entirely satisfied with your purchase, you may return it for a complete and immediate refund of your entire purchase price. Most of these antique gemstones were originally part of two collections, one originating in India principally composed of gemstones originally mined in India, Burma, Ceylon, and Siam, and then hand faceted in India. The addition of a second accumulation of antique gemstones originally mined in the Urals in the mid to late 19th century (including alexandrite) completed the collection. These gemstones as well were hand finished. The Urals have been one of the world's major sources of precious and semi-precious gemstones for many centuries. As well, additional specimens are occasionally acquired from other institutions and dealers in Eastern Europe and Asia. These antique gemstones are now in the United States and are available for immediate delivery.
We ship inventory from the USA order fulfillment center near Seattle, Washington. Your purchase will ordinarily be shipping within 48 hours of payment. A certificate of authenticity is available upon request. We prefer your personal check or money order over any other form of payment - and we will ship immediately upon receipt of your check (no "holds"). We will accept PayPal payments. Please see our "ADDITIONAL TERMS OF SALE".