For Customers outside of USA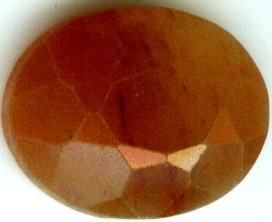 Antique 19th Century Genuine Natural Twenty-Five Carat Hand Crafted Indian Carnelian Semi-Precious Faceted Oval Gemstone.
CLASSIFICATION: Faceted Indian Carnelian Oval.
ORIGIN: 19th century India.
SIZE: Length: 22mm. Width: 18mm. Depth (Thickness): 8mm. Measurements approximate.
WEIGHT: 24.76 carats.
NOTES: Upon request we can set your gemstone as a pendant or a ring.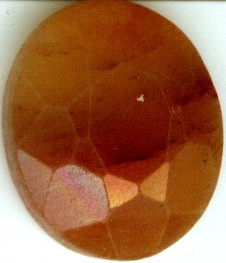 DETAIL: An absolutely colossal, nice quality 19th century antique hand crafted and faceted bright orange carnelian semi-precious oval gemstone from India. This is an exceptionally nice specimen, with bright mandarin orange tones - almost a pastel orange, though nonetheless quite vibrant in character. This colossal gemstone was hand shaped and faceted into this very beautiful oval by a 19th century Russian artisan. It is a nice quality carnelian gemstone by 19th century standards. The gemstone would be more or less transparent except for the fact that it is so thick. Given the thick cut, it is more toward translucent than transparent. By today's standards it is not an exceptionally high quality carnelian - though its size and age make it nonetheless extraordinary. But by 19th century standards, this was a very desirable and expensive gemstone. Carnelian gemstones and jewelry were extremely popular throughout the ancient Mediterranean, and maintained its immense popularity through Renaissance and into Victorian Europe. During the Roman Empire carnelian was widely used to carve cameos and signet/intaglio rings. The Romans acquired their taste for this beautifully colored reddish-orange gemstone from the Phoenicians, who traded extensively in carnelian. And carnelian was also an important trade good in ancient India.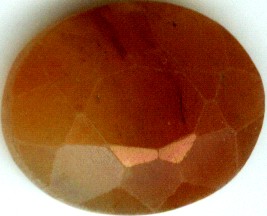 Since before recorded history evidence suggests that carnelian was one of the most favored gemstones for at least the past 10,000 years. This particular specimen has great lustre, but it is not flawless, and could not meet the contemporary criteria necessary to be even characterized as high quality. True, the blemishes it possesses are not as apparent in hand as they are in these photo enlargements. Magnified several times over, as it is here, you can see a number of imperfections (included material) within the gemstone and irregularities in the finish. But these characteristics are not only expected of hand-finished gemstones, you must also consider that two centuries ago the mining techniques prevalent did not allow the ultra deep mining operations which are so common today. Two centuries ago mankind was more or less limited to surface deposits or near surface deposits of precious and semi-precious gemstones. Higher quality gemstones which today are routinely mined from beneath hundreds of meters, even kilometers beneath the earth's surface, were simply inaccessible. So antique gemstones must be appreciated as antiques first, gemstones second. The relatively superlative quality of contemporary gemstones mined from deep beneath the earth's surface were simply not accessible two centuries ago, or at least, only rarely so. But for most, the unique nature and character of these antique gemstones more than makes up for included imperfections and irregular finishing which by and large are not so terribly obvious as they are in these photo enlargements.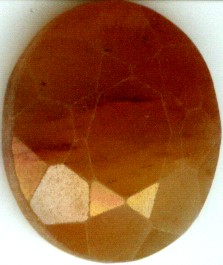 HISTORY: "Carnelian" gets its name from the Latin "cornum" (cornel berry or carnelian cherry). Aside from pearls, which were "discovered" as gemstones by prehistoric man, carnelian, turquoise, and lapis lazuli are the oldest gemstones utilized in the manufacture of jewelry. Carnelian is a translucent form of (chalcedony) quartz, and ranges in color from yellow to a deep red, the color due to the presence of iron oxide. Some of the most ancient examples of jewelry included carnelian. Queen Pu-abi's tomb at Ur in Sumeria dated from the 3rd millennium B.C. In the crypt the upper part of the queen's body was covered with a robe made of gold, silver, lapis lazuli, carnelian, agate, and chalcedony beads. In Egyptian jewelry the use of gold was predominant, and it was generally complemented by the use of three colors of carnelian, as well as turquoise, and lapis lazuli.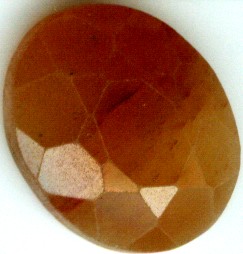 The blood red varieties of carnelian gained great popularity in the ancient world, and were widely used to produce engraved gemstones. Intaglio-incised carving was probably first used to produce seals. The art form is believed to have originated in southern Mesopotamia, and was highly developed by the 4th millennium B.C. Many of the intaglio carnelian rings and signets produced by ancient Roman and Greek craftsmen and still in existence today, have retained their high polish better than many harder stones. Aside from being quite beautiful, carnelian seals and signets had the practical advantage of not sticking to wax. The ancient Mediterranean cultures recommended carnelian gemstones for those of weak voice or timid on speech. It was also thought to give courage to those who wore the gemstone, and also to provide a positive influence on the reproductive system. Carnelian was also believed to be strong protection from the evil eye.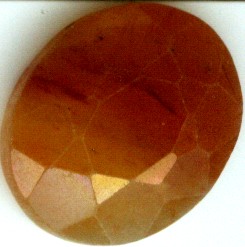 SHIPPING OPTIONS: All purchases are backed by an unlimited guarantee of satisfaction and authenticity. If for any reason you are not entirely satisfied with your purchase, you may return it for a complete and immediate refund of your entire purchase price. Most of these antique gemstones were originally part of two collections, one originating in India principally composed of gemstones originally mined in India, Burma, Ceylon, and Siam, and then hand faceted in India. The addition of a second accumulation of antique gemstones originally mined in the Urals in the mid to late 19th century (including alexandrite) completed the collection. These gemstones as well were hand finished. The Urals have been one of the world's major sources of precious and semi-precious gemstones for many centuries. As well, additional specimens are occasionally acquired from other institutions and dealers in Eastern Europe and Asia. These antique gemstones are now in the United States and are available for immediate delivery.
We ship inventory from the USA order fulfillment center near Seattle, Washington. Your purchase will ordinarily be shipping within 48 hours of payment. A certificate of authenticity is available upon request. We prefer your personal check or money order over any other form of payment - and we will ship immediately upon receipt of your check (no "holds"). We will accept PayPal payments. Please see our "ADDITIONAL TERMS OF SALE".