For Customers outside of USA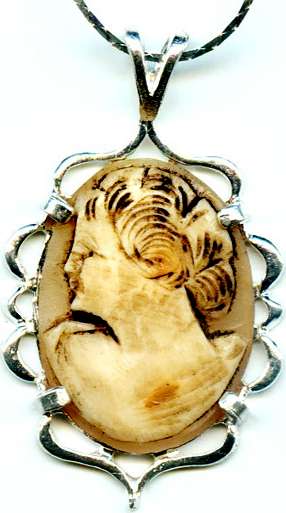 Genuine Mid-Nineteenth Century Hand Carved Sea Shell Cameo.
DIMENSIONS: 30mm in length; 22mm in width, 3mm in thickness. Weight is 2.57 grams.
ORIGIN: Torre Del Greco, Italy. Approximately 1850-1860.
NOTES: Mounted onto high quality contemporary sterling silver setting. Included is a silver electroplate chain. 14kt gold fill and solid gold settings and chains available upon request.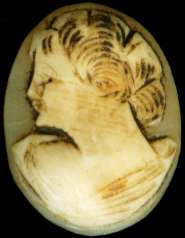 Absolutely gorgeous and historically significant are the best ways to describe this stunning cameo. For over 500 years a tiny town in the shadow of Mount Vesuvius has been famous for the production of cameos hand carved from sea shells. Although we have no idea who this elegant lady is, she must have been very proud to have her likeness carved into such a beautiful piece of jewelry. Genuine antique sea shell cameos from Torre Del Greco are very difficult to come by. We're fortunate to have a small collection - but when they are gone, they are gone forever. We have mounted this gorgeous piece into a high quality sterling silver setting which complements the cameo without overpowering it. We include an attractive silver electroplated chain. If you prefer, this cameo could be remounted into your choice of 14kt solid gold or 14kt gold fill. And of course we have chains available to match.
Cameos have been a popular form of artistic jewelry for around 2,500 years. Although some sources put the origin of cameo carving in Hellenic Alexandria, Egypt in the late fourth century B.C., evidence suggests that the Greeks brought it with them. In any event, cameos were extremely popular in the Greco-Roman world. The origin of the word may be the Hebrew "Kamea", for a charm or amulet; or Latin "Cammaeus" for an engraved gemstone. Cameos historically were produced from sea shells or semi-precious gemstones such as quartz agate. The most popular form of cameo in the Roman world was the intaglio cameo, where the image was carved out of the gemstone forming a recess. Typically the medium was transparent/translucent orange carnelian. There is a magnificent collection of such intaglio cameos in St. Petersburg, Russia, at The Hermitage. Early Green and Roman intaglios featured images of gods and goddesses, mythological themes, beautiful women, portraits of their owners, and biblical events.
The second style of cameo was historically produced from sea shells or translucent or opaque gemstones such as banded agate. Here the image was cut in relief - successive of layers of material cut away to produce an image. Relief cameos from semi-precious stones such as agate were more common in the ancient world. Those carved from sea shells came much later, Medieval or Renaissance in origin. When the Roman Empire collapsed in the fifth century, so did the art form of carving cameos, both relief and intaglio. The Renaissance revived the art form in the fifteenth century. A tiny town at the base of Mount Vesuvius (Torre Del Greco, Italy) became the center of cameo production from sea shells, and remains so today. A small town in Germany (Idar-Oberstein) became famous for the production of cameos from agate.
SHIPPING OPTIONS: All purchases are backed by an unlimited guarantee of satisfaction and authenticity. If for any reason you are not entirely satisfied with your purchase, you may return it for a complete and immediate refund of your entire purchase price. Most of these antique gemstones were originally part of two collections, one originating in India principally composed of gemstones originally mined in India, Burma, Ceylon, and Siam, and then hand faceted in India. The addition of a second accumulation of antique gemstones originally mined in the Urals in the mid to late 19th century (including alexandrite) completed the collection. These gemstones as well were hand finished. The Urals have been one of the world's major sources of precious and semi-precious gemstones for many centuries. As well, additional specimens are occasionally acquired from other institutions and dealers in Eastern Europe and Asia. These antique gemstones are now in the United States and are available for immediate delivery.
We ship inventory from the USA order fulfillment center near Seattle, Washington. Your purchase will ordinarily be shipping within 48 hours of payment. A certificate of authenticity is available upon request. We prefer your personal check or money order over any other form of payment - and we will ship immediately upon receipt of your check (no "holds"). We will accept PayPal payments. Please see our "ADDITIONAL TERMS OF SALE".