For Customers outside of USA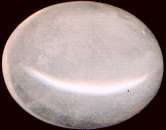 Antique 19th Century Genuine Natural Two and One-Third Carat Hand Crafted/Polished Indian Rose Quartz Semi-Precious Gemstone Oval.
CLASSIFICATION: Polished Indian Rose Quartz Cabochon.
ORIGIN: 19th century India.
SIZE: Length: 10mm. Width: 8mm. Depth (Thickness): 4mm. Measurements approximate.
WEIGHT: 2.3 carats.
NOTES: Upon request we can set your gemstone as a ring, earring, or pendant.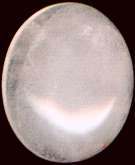 DETAIL: A very nice quality 19th century antique hand crafted/shaped/polished bright rose quartz semi-precious gemstone from India. This is an exceptionally nice, high quality specimen, with beautiful, pastel, delicate rose colored gemstone. Rose Quartz gemstones and jewelry were extremely popular throughout the ancient Mediterranean, and maintained its immense popularity through Renaissance and into Victorian Europe. During the Roman Empire carnelian, closely related to rose quartz, was widely used to carve cameos and signet/intaglio rings. The Romans acquired their taste for both carnelian and rose quartz from the Phoenicians, who traded extensively in both forms of quartz. As well rose quartz was also an important trade good in ancient India.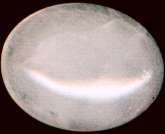 Since before recorded history evidence suggests that various forms of quartz (including rose quartz, amethyst, carnelian, and aventurine) were amongst the most favored gemstones for at least the past 10,000 years. This particular specimen is of very nice quality, very beautiful, and is gemstone quality - approaching flawlessness - certainly exceeding the standard of "eye clean". However close examination of the gemstone reveals that the gemstone has been hand shaped and hand finished. The slight irregularities which are the hallmark of a handcrafted gemstone are generally regarded as appealing to most gemstone collectors, and is not considered detrimental. Unlike today's computer controlled machine finished gemstones, the cut and finish of a gemstone such as this is the legacy of an artisan who lived two centuries ago. Such antique hand-crafted gemstones possess much greater character and appeal than today's mass-produced machine-produced gemstones.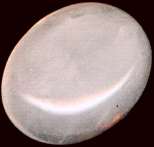 HISTORY: Aside from pearls, which were "discovered" as gemstones by prehistoric man, various forms of quartz (such as carnelian, amethyst, and rose quartz), turquoise, and lapis lazuli are the oldest gemstones utilized in the manufacture of jewelry. "Rose quartz" is the rarest of these various quartz varieties, and transparent rose quartz very rare. The ancient Assyrians and Romans were among the first to use rose quartz, carved and faceted to provide gemstones. Since those ancient times rose quartz has been a traditional gift expressing love or affection for another. Quartz crystals have always been popular in jewelry due to mystical legends concerning the "power" of quartz crystals. Besides use as gemstones and decorative accoutrements, quartz was also ground by ancient cultures to produce primitive forms of glass and ceramics. Ceramic "glass-like" ("faience) beads were produced by the ancient Egyptian, Sumerian and Babylonian cultures. The pink shades of rose quartz are due to the presence of titanium. The ancient sources for rose quartz were mines in Namibia.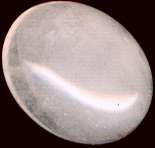 Quartz crystal exhibits a property called the piezoelectric effect; it produces an electric voltage. This was noticed by ancient cultures, and consequentially since ancient times many mystical properties have been attributed to quartz crystals. In Medieval Europe, quartz was believed to act as a psychic purifier. It was believed to tune into the "vibrational level" of an individual and assist in "tuning" into oneself, "tune out" the distractions of the outside world, and aid in meditation. It was believed that clear crystals possessed the ability to amplify emotions, and enhance healing, concentration, and intuition. Crystals were believed to enhance energy levels, and to neutralize "negative energies". Even today many people still believe that wearing quartz crystals benefits a person's health and spiritual well being.
SHIPPING OPTIONS: All purchases are backed by an unlimited guarantee of satisfaction and authenticity. If for any reason you are not entirely satisfied with your purchase, you may return it for a complete and immediate refund of your entire purchase price. Most of these antique gemstones were originally part of two collections, one originating in India principally composed of gemstones originally mined in India, Burma, Ceylon, and Siam, and then hand faceted in India. The addition of a second accumulation of antique gemstones originally mined in the Urals in the mid to late 19th century (including alexandrite) completed the collection. These gemstones as well were hand finished. The Urals have been one of the world's major sources of precious and semi-precious gemstones for many centuries. As well, additional specimens are occasionally acquired from other institutions and dealers in Eastern Europe and Asia. These antique gemstones are now in the United States and are available for immediate delivery.
We ship inventory from the USA order fulfillment center near Seattle, Washington. Your purchase will ordinarily be shipping within 48 hours of payment. A certificate of authenticity is available upon request. We prefer your personal check or money order over any other form of payment - and we will ship immediately upon receipt of your check (no "holds"). We will accept PayPal payments. Please see our "ADDITIONAL TERMS OF SALE".