For Customers outside of USA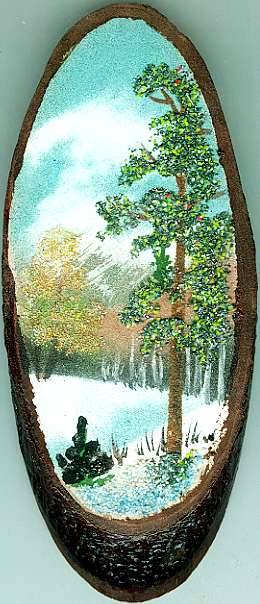 Authentic Russian Rural Siberian Artisan Handicraft Landscape "Painting" Composed of Genuine (Crushed/Chipped) Precious and Semi-Precious Gemstones on Cross-Section of Tree Branch.
Genuine Hand-Made Product of the Gemstone Region of the Southern Ural Mountains of (Siberia) Russia.
Dimensions: Length: 8 1/4 inches. Width: 3 1/2 inches. Thickness: about 1 inch.
The region of the Southern Urals of (Siberia) Russia has been famous for centuries for its production of high quality emeralds, sapphires, alexandrite, topaz, zircon, and other semi-precious gemstones. The gemstone are not only mined in the Southern Urals, they are oftentimes hand cut as well. This gorgeous landscape "painting" is composed of the tiny chips which are the by-product of cutting and faceting these gemstones. Following traditional methods generations old, artisans in the region of Siberia hand make these landscape paintings by applying crushed and chipped gemstones to a "canvas" of wood. Even the blues of the sky is ground lapis lazuli. The entirety of the painting is from crushed and chipped emeralds, rubies, sapphires, garnet, citrine, peridot, lapis lazuli, topaz, carnelian, amethyst, aquamarine, garnet, jade, pink tourmaline, malachite, aventurine, jasper, tigerseye, amazonite, as well as another twenty-five or so varieties of semi-precious gemstones. These not only look great on a wall or desk, they're really unique, and great conversation pieces. The images are superb, and you'll never see anything like it in the West, the work is simply too labor intensive. But in the little villages of Siberia with their eight month long winters, artisans produce these great little paintings each year. But it's a dying art form - get one while you still can.
All purchases are backed by an unlimited guarantee of satisfaction and authenticity. If for any reason you are not entirely satisfied with your purchase, you may return it for a complete and immediate refund of your entire purchase price. Most of these antique gemstones were originally part of two collections, one originating in India principally composed of gemstones originally mined in India, Burma, Ceylon, and Siam, and then hand faceted in India. The addition of a second accumulation of antique gemstones originally mined in the Urals in the mid to late 19th century (including alexandrite) completed the collection. These gemstones as well were hand finished. The Urals have been one of the world's major sources of precious and semi-precious gemstones for many centuries. As well, additional specimens are occasionally acquired from other institutions and dealers in Eastern Europe and Asia. These antique gemstones are now in the United States and are available for immediate delivery.
Domestic shipping is $7.99 for first class mail. Domestic rates include USPS Delivery Confirmation (you might be able to update the status of your shipment on-line at the USPS Web Site). International shipments are $13.99 for Air Mail (and generally are NOT tracked; trackable shipments are EXTRA). I can add most other items I sell to the shipment for only $0.99 each. Your purchase will ordinarily be shipped within 48 hours of payment. We package as well as anyone in the business, with lots of protective padding and containers.
A certificate of authenticity is available upon request. COA's are prepared and mailed from Russia. It takes a few weeks to receive them, and international air mail from Russia costs an additional $2.00. We prefer your personal check or money order over any other form of payment - and we will ship immediately upon receipt of your check (no "holds"). We will accept PayPal payments. Please see our "ADDITIONAL TERMS OF SALE".