For Customers outside of USA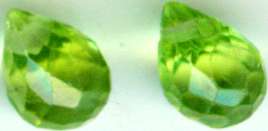 Two Antique Genuine Natural Burmese Lime Green Peridot Hand Cut, Hand Faceted Three-Quarter Carat Briolette Semi-Precious Gemstones.
CLASSIFICATION: Faceted Briolette Cut Peridots.
ORIGIN: Burma. 19th Century.
SIZE: Length: 6mm. Diameter: 4mm.
WEIGHT: Approximately 1.52 carats (the pair).
NOTES: Upon request we can set your gemstones as a ring, pendant, or earrings. These have mounting holes in the smallest end, which allows many setting options.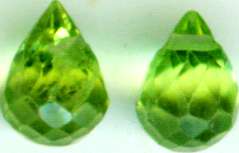 DETAIL: Two absolutely gorgeous, pastel green, hand crafted briolette cut faceted peridot semi-precious gemstones from Burma. Transparent, eye clean or near eye clean, these lustrous semi-precious gemstones possess a beautiful, light, citrus character. They are very attractive gemstones, with pastel citrus green color (very, very similar to Siberian emeralds), of delicate character and light texture. These particular gemstones were hand cut and faceted into briolette teardrops, an old fashioned cut reflecting their heritage. Hand crafted by a 19th century Russian artisan, part of an heritage renown for the production of the elaborate gemstones and jewelry of the Czars of Medieval, Renaissance, and Victorian Russia. The trained eye will easily discern from the photo that the gemstones have been hand-faceted. The coarseness of the 19th century faceting is considered appealing to most gemstone collectors, and is not considered a detriment. Unlike today's computer controlled machine processes, the cut and finish of gemstones such as these is the legacy of an artisan who lived two centuries ago. Such antique hand-faceted gemstones possess much greater character and appeal than today's mass-produced machine-faceted gemstones.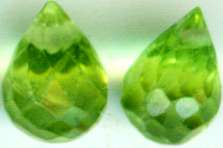 These specimens are quite characteristic of both the workmanship and the gemstone quality common to the 19th century. They possess great luster and sparkle, and to the eye are transparent, but they are not absolutely flawless. True, the blemishes they possess are not visible to the naked eye except perhaps with the most intense scrutiny, and the gemstones can be characterized at a minimum, to use trade jargon, as "eye clean" or "near eye clean". To the eye they are indeed without perceptible flaw; however magnified 500%, as they are here, you are probably able to pick out a few slight imperfections (mostly colorless crystalline material) within the gemstones, not readily perceptible even at such high magnification, and as well occasional irregularities in the faceting and finish. But these characteristics are not only expected of hand-finished gemstones, you must also consider that two centuries ago the mining techniques even theoretically possible, let alone commonly practiced, did not allow the ultra deep mining operations which are so commonplace today.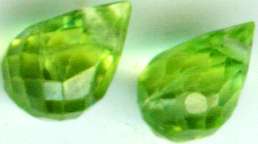 Two centuries ago mankind was more or less limited to surface deposits or near surface deposits of gemstones. Higher quality gemstones which today are routinely mined from beneath hundreds of meters, even kilometers beneath the earth's surface, were simply inaccessible then. So antique gemstones must be appreciated as antiques first, gemstones second. The relatively superlative quality of contemporary gemstones routinely mined from deep beneath the earth's surface today were simply not accessible two centuries ago, or at least, only rarely so. However for most, the unique nature and character of antique gemstones such as this more than makes up for included imperfections which by and large, are (if at all) only visible under high magnification. Both of these gemstones have drilled horizontal mounting holes running through the narrowest end o the cut (from side-to-side). This allows for many different setting methods, but they are most easily mounted onto French hooks, leverbacks, euroclicks, or pendants. They're not suitable really for studs (though they can be made to work) except for ball-stud dangles.
HISTORY: The name is derived from the Arabic "faridat" meaning "gem". Peridot was mined on an island in the Red Sea off the coast of Egypt known to the Greeks as Topazios as early as 1500 B.C., and eventually during the Crusades peridot was brought to Europe. The barren little island was one of the best-guarded areas of the ancient world, as the Egyptians so valued peridot that guards stationed on the island were given orders to kill anyone approaching the shore without permission. To the ancient Egyptians, the golden glow of Peridot symbolized "Ra", their sun god. It is believed that peridot was Cleopatra's favorite gemstone, and that biblical references to "crysolite" in the Old Testament actually refer to peridot. In medieval Europe peridot was worn as a talisman, believed to give its wearer foresight and divine inspiration, and that it was capable of dissolving enchantments.
SHIPPING OPTIONS: All purchases are backed by an unlimited guarantee of satisfaction and authenticity. If for any reason you are not entirely satisfied with your purchase, you may return it for a complete and immediate refund of your entire purchase price. Most of these antique gemstones were originally part of two collections, one originating in India principally composed of gemstones originally mined in India, Burma, Ceylon, and Siam, and then hand faceted in India. The addition of a second accumulation of antique gemstones originally mined in the Urals in the mid to late 19th century (including alexandrite) completed the collection. These gemstones as well were hand finished. The Urals have been one of the world's major sources of precious and semi-precious gemstones for many centuries. As well, additional specimens are occasionally acquired from other institutions and dealers in Eastern Europe and Asia. These antique gemstones are now in the United States and are available for immediate delivery.
We ship inventory from the USA order fulfillment center near Seattle, Washington. Your purchase will ordinarily be shipping within 48 hours of payment. A certificate of authenticity is available upon request. We prefer your personal check or money order over any other form of payment - and we will ship immediately upon receipt of your check (no "holds"). We will accept PayPal payments. Please see our "ADDITIONAL TERMS OF SALE".