For Customers outside of USA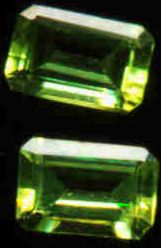 Two Antique Half Carat Genuine Natural Burmese Lime Green Peridot Faceted Emerald Cut Semi-Precious Gemstones.
CLASSIFICATION: Faceted Peridot Octagons.
ORIGIN: Burma. 19th Century.
SIZE: Length: 6mm. Width: 4mm. Depth: 3mm. All measurements approximate.
WEIGHT: Approximately 1.13 carats (the pair).
NOTES: Upon request we can set your gemstones as a ring, pendant, or earrings .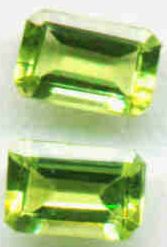 DETAIL: Peridot was mined on an island in the Red Sea off the coast of Egypt known to the Greeks as Topazios as early as 1500 B.C. Two absolutely gorgeous, pastel green faceted emerald cut peridot semi-precious gemstones from Burma. The cut is also known within the industry as an "octagon". High quality, transparent, at a minimum eye clean, these lustrous semi-precious gemstones possess a beautiful, light, citrus character. They are very attractive gemstones, with pastel citrus green color, of delicate character and light texture, a distinct almost emerald green, with bright "lemony" undertones. Both gemstones are exceptionally clean and bright, crystal clear, and nicely colored. The trained eye will easily discern from the photo that the gemstones have been hand-faceted. The coarseness of the 19th century faceting is considered appealing to most gemstone collectors, and is not considered a detriment. Unlike today's computer controlled machine processes, the cut and finish of gemstones such as these is the legacy of an artisan who lived two centuries ago. Such antique hand-faceted gemstones possess much greater character and appeal than today's mass-produced machine-faceted gemstones.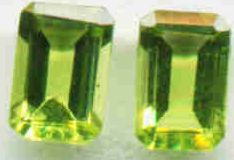 HISTORY: The name is derived from the Arabic "faridat" meaning "gem". Peridot was mined on an island in the Red Sea off the coast of Egypt known to the Greeks as Topazios as early as 1500 B.C., and eventually during the Crusades peridot was brought to Europe. The barren little island was one of the best-guarded areas of the ancient world, as the Egyptians so valued peridot that guards stationed on the island were given orders to kill anyone approaching the shore without permission. To the ancient Egyptians, the golden glow of Peridot symbolized "Ra", their sun god. It is believed that peridot was Cleopatra's favorite gemstone, and that biblical references to "crysolite" in the Old Testament actually refer to peridot. In medieval Europe peridot was worn as a talisman, believed to give its wearer foresight and divine inspiration, and that it was capable of dissolving enchantments.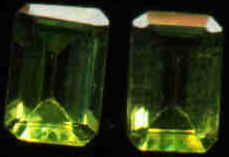 SHIPPING OPTIONS: All purchases are backed by an unlimited guarantee of satisfaction and authenticity. If for any reason you are not entirely satisfied with your purchase, you may return it for a complete and immediate refund of your entire purchase price. Most of these antique gemstones were originally part of two collections, one originating in India principally composed of gemstones originally mined in India, Burma, Ceylon, and Siam, and then hand faceted in India. The addition of a second accumulation of antique gemstones originally mined in the Urals in the mid to late 19th century (including alexandrite) completed the collection. These gemstones as well were hand finished. The Urals have been one of the world's major sources of precious and semi-precious gemstones for many centuries. As well, additional specimens are occasionally acquired from other institutions and dealers in Eastern Europe and Asia. These antique gemstones are now in the United States and are available for immediate delivery.
We ship inventory from the USA order fulfillment center near Seattle, Washington. Your purchase will ordinarily be shipping within 48 hours of payment. A certificate of authenticity is available upon request. We prefer your personal check or money order over any other form of payment - and we will ship immediately upon receipt of your check (no "holds"). We will accept PayPal payments. Please see our "ADDITIONAL TERMS OF SALE".