For Customers outside of USA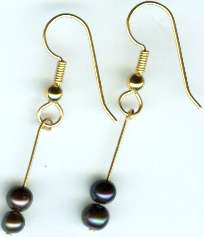 Four Genuine Iridescent Natural Solid Black Salt-Water Pearls.
CLASSIFICATION: Approximately Three Carats of Natural Solid Black Salt-Water Pearls.
ORIGIN: Tahiti. Early 20th Century.
APPROXIMATE SIZE: Diameter: 4 1/2 - 5mm (approximate measurement).
APPROXIMATE WEIGHT: 3/4 carats (each).
NOTES: Mounted onto high quality contemporary 14kt gold fill (not cheap electroplate) french hooks. Upon request we can substitute kidney wires, ball-stud-dangles, euro-clicks, or leverbacks. We can also substitute sterling silver.
DETAIL: Very, very cute earrings we produced using beautiful, iridescent, sumptuous, natural, solid black salt-water pearls. They are not cultured pearls, not imitation pearls, they are genuine saltwater black pearls. Four sumptuous genuine natural black salt water pearls set onto high quality 14kt gold fill french hooks. This is first-quality jewelry designed to last years and years, not cheap costume jewelry. Please do not confuse these pearls with cheap, plastic-center, thinly coated cultured freshwater pearl imitations. The vast majority of the pearls one sees on the market these days are just that - cultured pearls (oftentimes freshwater) with a few thin layers of pearl atop an artificial core. These gorgeous black pearls are solid, natural saltwater pearls. The pearls possess a highly polished, reflective, lustrous, black surface with green, blue, and purple iridescent highlights. The pearls are natural, so are not perfectly round. Perfectly round pearls are not common in nature - they are generally induced by man, i.e., cultured pearls which consist of a few layers of pearl over a manmade center.
The individual pearls average between four and one-half and five millimeters in diameter; and weigh approximately three-quarters of a carat each - the total gemstone weight of the two earrings being about three carats. If you prefer settings other than gold filled french hooks; we can remount them onto solid 14kt gold or sterling silver; or onto kidney wires, ball-stud dangles, leverbacks, or euro-clicks - or even clip-ons. Originally produced in the 1920's, then added to our collection in the 1930's, these are very uncommon gemstones, difficult to acquire at any price. Black pearls have been extremely popular in Russia since the time of Catherine the Great (1729-1796), who owned a necklace of 30 black pearls, the largest weighing 19 1/2 carats. Genuine solid black ocean pearls like these are extremely costly these days, and only the most expensive jewelry shops can even afford to inventory them. These images are of the actual gemstones offered.
The pearl is likely the first gemstone known to prehistoric man. Ancient Mediterranean cultures believed pearls were formed when an angel's tears fell into the open oyster shell. In ancient times the Red Sea was an important source of pearls to the various ancient Mediterranean civilizations. In the ancient gemstone markets of Babylon, 4,000 years ago, pearls were prized possessions believed to restore youth. Through ancient Rome and into medieval Europe, pearls always decorated crowns and robes of kings and queens. During the Renaissance, the European appetite for pearls became so great that laws forbade anyone other than royalty or the very privileged classes from even wearing pearls. Pearls were the exclusive domain of the crown! Pearls are found in a wide variety of colors and shades, the most highly valued being white, black, rose, and cream. Black pearls are very rare and highly prized, and are found only in Tahiti. Also especially prized are rose-colored pearls found in India and the South Pacific. If you would like to learn more about black pearls, there is a great article done in Fortune Magazine not too long ago; you can access it here: http://csu.rbcmail.ru/blackpearl.htm.
Chelyabinsk State University is a major institution in Chelyabinsk, Russia. Drawing from the entire region of the Southern Urals, it is one of Russia's larger academic institutions. The antique gemstones offered were originally part of a collection belonging to a British gentleman in early 19th century British India. The gemstones had been originally mined in India, Burma, and Ceylon, and then hand faceted in India. With independence for India in 1947, the collection passed to Indian ownership, and a substantial portion of the collection found its way to Russia in the mid-1960's, at the height of Soviet influence in India. The addition of a second accumulation of antique gemstones originally mined in the Urals in the middle of 19th century (including alexandrite) completed the collection. These gemstones as well were hand finished.
SHIPPING OPTIONS: All purchases are backed by an unlimited guarantee of satisfaction and authenticity. If for any reason you are not entirely satisfied with your purchase, you may return it for a complete and immediate refund of your entire purchase price. Most of these antique gemstones were originally part of two collections, one originating in India principally composed of gemstones originally mined in India, Burma, Ceylon, and Siam, and then hand faceted in India. The addition of a second accumulation of antique gemstones originally mined in the Urals in the mid to late 19th century (including alexandrite) completed the collection. These gemstones as well were hand finished. The Urals have been one of the world's major sources of precious and semi-precious gemstones for many centuries. As well, additional specimens are occasionally acquired from other institutions and dealers in Eastern Europe and Asia. These antique gemstones are now in the United States and are available for immediate delivery.
We ship inventory from the USA order fulfillment center near Seattle, Washington. Your purchase will ordinarily be shipping within 48 hours of payment. A certificate of authenticity is available upon request. We prefer your personal check or money order over any other form of payment - and we will ship immediately upon receipt of your check (no "holds"). We will accept PayPal payments. Please see our "ADDITIONAL TERMS OF SALE".