For Customers outside of USA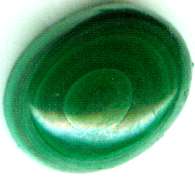 Antique Four Carat (Plus) Genuine Natural Russian Natural Variegated Malachite Semi-Precious Oval Gemstone.
CLASSIFICATION: Cabochon Malachite Oval.
ORIGIN: Southern Urals of Russia, 19th Century.
SIZE: Length: 10mm. Width: 8mm. Depth: 4mm. All measurements approximate.
WEIGHT: 4.11 carats.
NOTES: Upon request we can set your gemstones as a ring, pendant, or as earrings .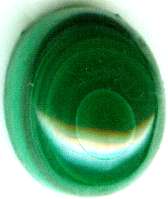 DETAIL: A gorgeous, richly colored variegated malachite gemstone from the centuries old mines in the Southern Urals of Russia. The gemstone was hand shaped and polished into this very beautiful oval cabochon by a 19th century Russian artisan. The result is an exquisite and incredibly richly colored precious gemstone with lots of depth and gorgeous tone. It is truly a very rich and colorful green gemstone, immensely popular with the royal houses of Renaissance Europe. The Southern Urals and France were the source of the malachite which was so popular in the ancient classical Mediterranean world. And archaeological discoveries show that this breathtaking and striking gemstone was extremely popular in ancient Egypt as long ago as 4,000 B.C. Gemstone quality malachite is in high demand, and can be quite costly, and this is exceptionally good quality malachite, gorgeous and richly colored.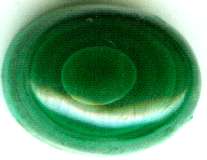 Under magnification the gemstone shows the unmistakable characteristics of having been hand crafted. The coarseness of the 19th century finish is considered appealing to most gemstone collectors, and is not considered a detriment, or detract from the value of a gemstone. But these characteristics are not only expected of hand-finished gemstones, most serious collectors consider such gemstones more desirable, possessed of greater character and uniqueness when compared to today's cookie-cutter mass-produced machine-tumbled gemstones. Unlike today's computer controlled machine produced gemstones, the cut and finish of a gemstone such as this is the legacy of an artisan who lived two centuries ago. For most, the unique nature and character of antique gemstones such as this more than makes up for included imperfections which by and large, are only visible under magnification.
HISTORY: Malachite and Azurite, closely related as oxidized forms of copper ore, have long been powdered and used as pigments. Due to its beauty and relative softness, polished, banded Malachite has been carved into ornaments and worn as jewelry for thousands of years. Ancient artisans used both malachite and azurite widely as gemstones, azurite being a constituent ingredient of lapis lazuli. Malachite gets its name from the Greek word "Mala'khe", which refers to its green color. In the ancient world malachite was a famous and very popular semi-precious stone. Its banded light and dark green designs are unique in the gemstone world, and gave it a unique ornamental quality unlike that of any other stone available to ancient artisans. The Egyptians seem to have been the first to mine and use malachite as early as 4000 B.C. in the manufacture of amulets, jewelry and cosmetics.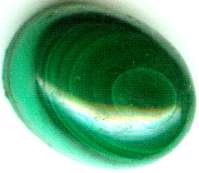 Powdered Malachite as one of the first green pigments was used in Egypt as eye shadow even before the first Egyptian dynasty. Powdered malachite pigment was used in tomb paintings from the Fourth Dynasty on. In ancient Egypt as well as other ancient cultures, malachite was used as a children's talisman to ward off danger and illness. Even today some cultures will attach malachite to infant's cradles. Malachite was held conducive to patience and increased knowledge, inner peace, and gave rise to hopefulness. It was also worn as a protective amulet against the spells of sorcerers and witches. Malachite gained great popularity during the Renaissance. In Czarist Russia huge pieces of malachite were used to make the columns of St. Isaac's Cathedral in Leningrad. The most important deposits of azurite and malachite occur at Chessy, near Lyon, in France; in the Ural Mountains of Russia; in Australia; and in Arizona.
SHIPPING OPTIONS: All purchases are backed by an unlimited guarantee of satisfaction and authenticity. If for any reason you are not entirely satisfied with your purchase, you may return it for a complete and immediate refund of your entire purchase price. Most of these antique gemstones were originally part of two collections, one originating in India principally composed of gemstones originally mined in India, Burma, Ceylon, and Siam, and then hand faceted in India. The addition of a second accumulation of antique gemstones originally mined in the Urals in the mid to late 19th century (including alexandrite) completed the collection. These gemstones as well were hand finished. The Urals have been one of the world's major sources of precious and semi-precious gemstones for many centuries. As well, additional specimens are occasionally acquired from other institutions and dealers in Eastern Europe and Asia. These antique gemstones are now in the United States and are available for immediate delivery.
We ship inventory from the USA order fulfillment center near Seattle, Washington. Your purchase will ordinarily be shipping within 48 hours of payment. A certificate of authenticity is available upon request. We prefer your personal check or money order over any other form of payment - and we will ship immediately upon receipt of your check (no "holds"). We will accept PayPal payments. Please see our "ADDITIONAL TERMS OF SALE".