Timeless Treasures
---
Antique Aquamarine Gemstone:
Aquamarine is a variety of the mineral beryl, as is emerald. It can be found in blue, blue-green, and green; though the blue color is by far the most valuable. The origin of the name "aquamarine" is Latin; "aqua", for water; "marina", for sea. Ancient Greeks believed Aquamarine held the essence and spirit of the sea. Wearing this stone as a talisman was believed to protect from adversities at sea, prevent sea sickness, and promote courage and a strong will, and to quicken the intellect.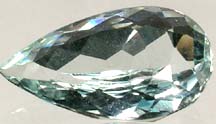 Ancient Greek jewelers made extensive use of aquamarine, which came to them via Arabian camel caravan and ocean-going Mediterranean galleys. To Christians from the earliest times through the Medieval era, aquamarine symbolized harmony, happiness, innocence, youthfulness, and purity. It was held for its amuletic properties, believed to help protect against evil and conquer wickedness.